QuickBooks VAT 2021
Submit VAT Return with Infoseed. We are Best leading Authorised Accounting Software Intuit QuickBooks VAT 2021 Software Dealer / QuickBooks VAT 2021 Software Dubai UAE / QuickBooks Enterprise Dealer / Sage 50 Dealer at Best Price in Dubai, UAE, Sharjah, Abu Dhabi, Oman, Qatar, Doha, Kuwait, Muscat, Bahrain, Saudi Arabia, South Africa, Nigeria serving full Middle East and Africa. Quickbooks Enterprise Download
Quickbooks VAT 2021, Accounting Software For Retail, Cloud Solutions, QuickBooks UK, QuickBooks Accountant Desktop Accounting Software, QuickBooks Online, Discover QuickBooks accounting software, the perfect cloud-based solution for small businesses and self-employed people. Sign up today. QuickBooks UK, Peachtree, KeyProfit, SAGE 50, Dealer in Kuwait, Bahrain, Qatar, Dubai, Abu Dhabi, UAE, Middle East, UAE, Middle East
QuickBooks Pro: More Efficient, Easier than Ever
QuickBooks Pro UK 2021 (VAT Compliant)
It's easy to file accurate VAT returns with QuickBooks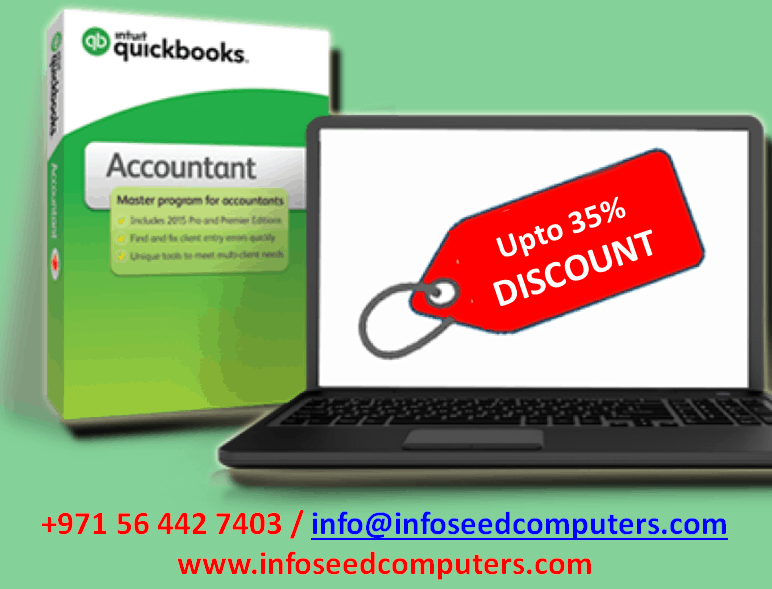 ACCOUNTING SOFTWARE SERVICES
We provides Best VAT Accounting Software, Software Installation, Accounting Software Training, Software Support, Online and Offline Support, Software Annual Maintenance Contract, Accounting Software Customization, Software Password Recovery, Software Installation, Data Migration, Value Added TAX,Quickbooks VAT 2021
How to choose right Best VAT Accounting Software for your company
INTUIT QuickBooks 2021
1. QuickBooks for Mac 2021 - Single User/ 3 Users
2.QuickBooks Pro 2021 - Single User / 3 Users /5 Users
3. QuickBooks Premiere 2021 - Single User / 3 Users /5 Users
4. QuickBooks Enterprise Edition 2021 - 1 Users to 30 Users
5. QuickBooks On Line ( Web Version) 2021- 2 Users to 30 Users
SAGE 50 US(Formerly Peachtree) 2021;
1. SAGE 50 US Pro 2021 - Single User / 3 Users/ 5 Users
2. SAGE 50 US Premium 2021 - Single User / 3 Users / 5 Users
3. SAGE 50 US Quantum 2021 - 5 Users to 40 User License
SAGE 50 Canadian Version (Formerly Simply Accounting) 2021
1. SAGE 50 (Canadian Version) Pro 2021 - Single User
2. SAGE 50 (Canadian Version) Premium 2021 - 2 - 4 User
3. SAGE 50 (Canadian Version) Enterprise 2021 - 5 Users to 20 Users
Tally ERP 9 2017-18
1. Tally ERP 9 ( SILVER) - Single User License
2. Tally ERP 9 (GOLD) - Multi User License
KeyProfit Quickbooks VAT 2021
If you're looking for Quickbooks Dealer in Dubai and Quickbooks Dealer in Oman we would be proud to have you as a valued customer. Other Quickbooks Pro, Premium, Mac, Pos and Integrator may not all offer the same wide array of products and services choices we can provide. When you choose Infoseed Computers LLC, you're choosing a well-established and longstanding company with a strong reputation. Among Quickbooks UK Dealer Dubai, UAE, Abu Dhabi we're proud to be the one with the best reputation.
Infoseed Computers LLC Accounting Software Consultants is the Authorised Dealer and the solution provider of Quickbooks. Quickbooks VAT 2021 is exceptionally recommendable programming which improves all the bookkeeping systems.
Are you looking for QuickBooks enterprise click on below link:
QuickBooks Desktop Enterprise 20.0 is a most powerful QuickBooksyet. It delivers robust, easy-to-use, advanced functionality that scales with your business. To know more contact us Call / Whatsapp +971564427403
Why choose QuickBooks Desktop Enterprise
It's efficient and comprehensive- scale from 1 up to 30 users, without giving up control over user access. End-to-end workflows empower Enterprise customers to pay employees, track inventory, and run reports, all in one place.
It's flexible and tailored - Enterprise supports hundreds of thousands of users, items and vendors — more than 6 times the capacity of other QuickBooks products. QuickBooks Desktop Enterprise offers unique solutions tailored for the needs of retail, contractor, nonprofit, manufacturing and wholesale organizations.
It's familiar - QuickBooks Desktop Enterprise has the same friendly, inviting interface that countless QuickBooks users have come to know and trust.
Quickbooks Enterprise Download
New Features of QuickBooks Desktop Enterprise 2021
 Landed Cost
This feature factors in freight, duties, insurance, and other miscellaneous expenses so you can better identity true product costs. It helps to make better business decisions on pricing, profit, and sales. Save time and reduce errors by avoiding tedious, manual landed cost work arounds.
Alternate Vendors Center
This displays all your vendors in one central location, including contacts and pricing data. Save time by reducing the need to track down critical vendor information. Import vendor list prices and create purchase orders with vendor information included automatically.
Express Pick-Pack
Streamline your order fulfillment process and gain the flexibility to combine picker and packer roles. It's part of our Enhanced Pick, Pack, and Ship functionality that lets you easily manage sales orders from start to finish from a central dashboard inside QuickBooks.
Best VAT Accounting Software  | Quickbooks Online   | Quickbooks Enterprise Download
Quickbooks Enterprise Download
Simple steps to ensure you are VAT Ready | Submit VAT Return
Now you can take care of your invoicing, bookkeeping and billing as well as staying VAT compliant with Intuit Quickbooks online accounting software. Providing the things you need most, to run your small business, all in one place.
Secure access anytime, on any device: Your data is completely secure in the cloud, allowing you to run your business from your Mac, PC, tablet or phone.
Easily track cash flow: Send quotes and invoices, track sales and expenses and scan receipts
Reports and insights: Create accounting reports, like balance sheets, profit & loss reports so you are ready for tax time.
Stay VAT compliant now and moving forward: Set up a VAT code in your QuickBooks Online account. This ensures all business transactions will include a VAT component and at the end of each quarter you will be able to view VAT reports.
Record Sales by Emirates: Split your VAT sales by Emirates and GCC countries.
Exchange Rates automatically displayed on invoices: No need to manually work out exchange rates when dealing with multiple currencies. Exchange rates will be automatically displayed on invoices.