QuickBooks Online - Get paid faster – create invoices instantly
Create quotes and invoices wherever you are, with a few taps.
We are Certified Reseller of Intuit QuickBooks Software serving in 16+ countries having more than 12 years of Experience.
Get 3 hrs QuickBooks Training + Remote Support for FREE.
Call / Whatsapp Now: +971564427403
Email: info@infoseedcomputers.com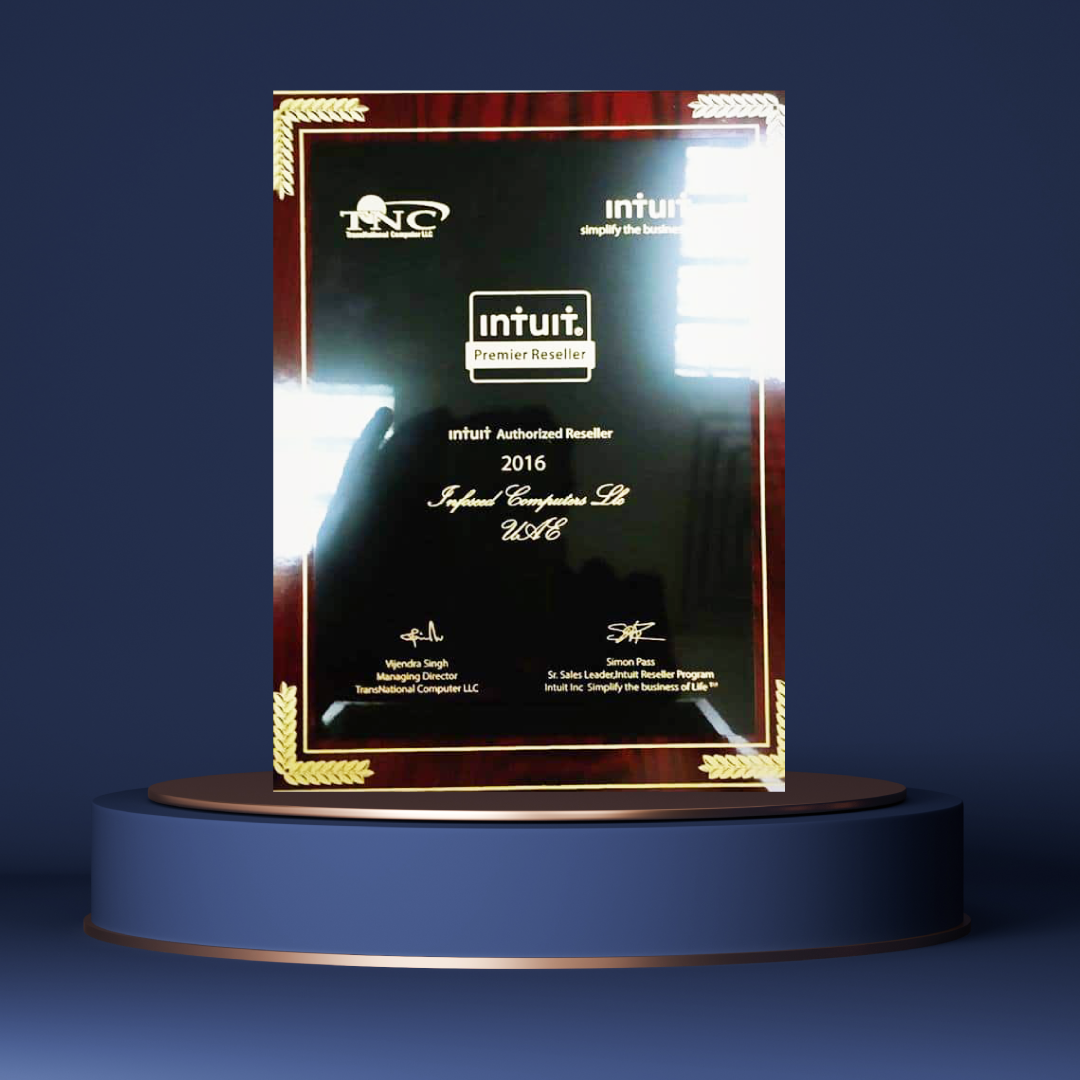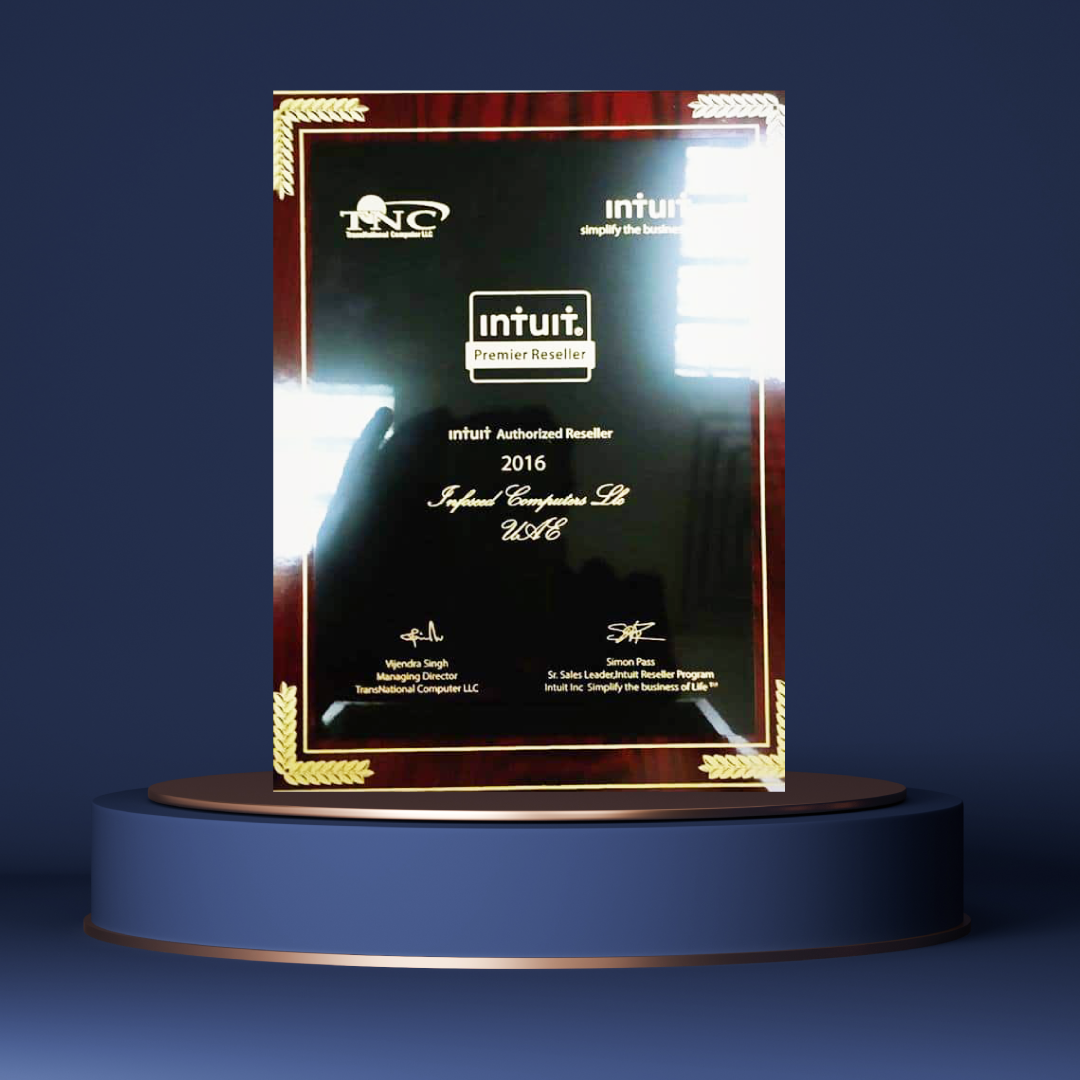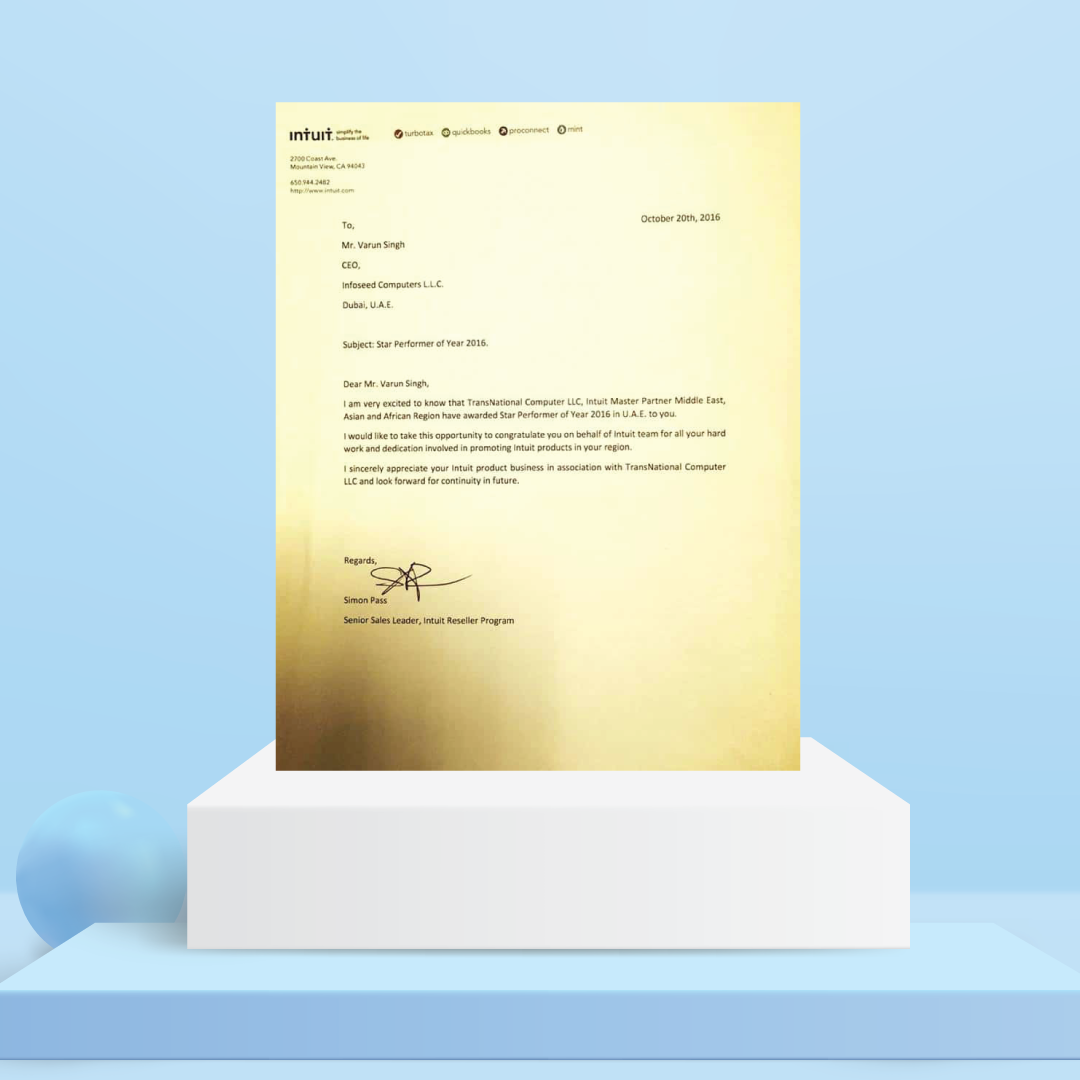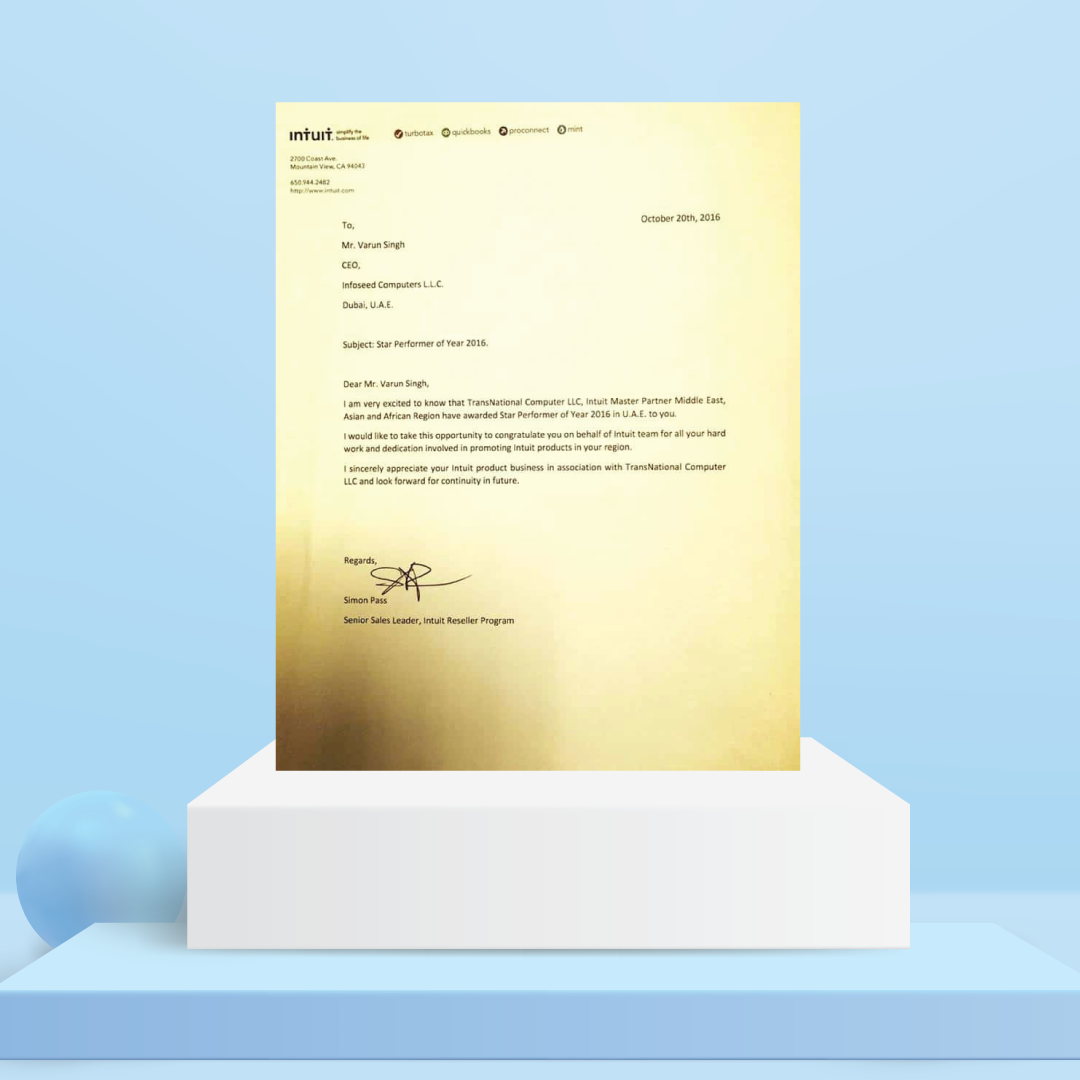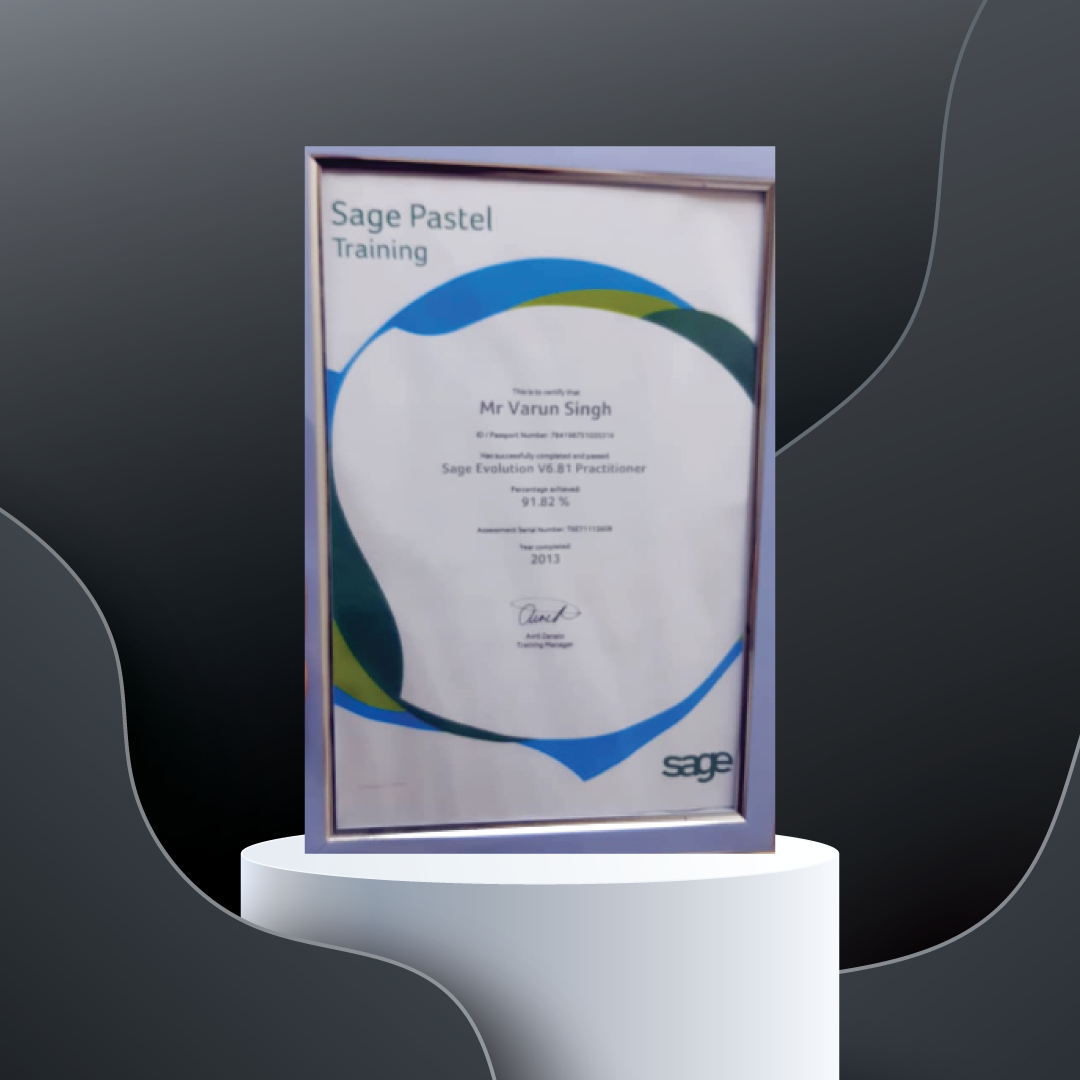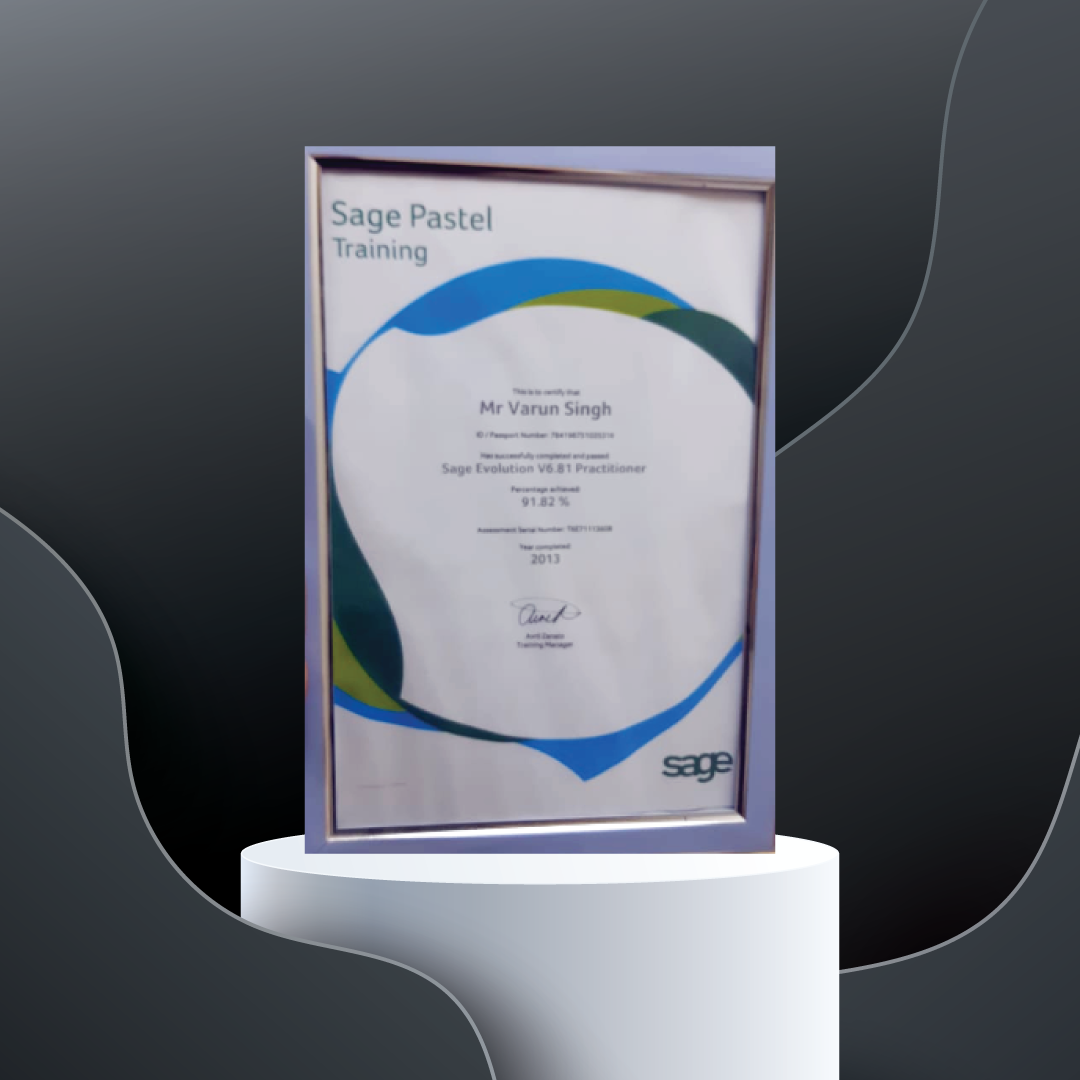 Save time – capture receipts on the go
Take photos of your receipts and create expenses wherever you are – always be ready for tax time.

Why Small Businesses love QuickBooks Online
Simply log in to QuickBooks through your web browser or the QuickBooks mobile app
Never worry about saving your file to a USB drive. QuickBooks Online is backed up with bank-level
Schedule reports to run automatically, so you don't have to worry about them.
Take photos of receipts and use the mobile app to attach them to transactions in QuickBooks.
You and your accountant can collaborate remotely on your data at the same time, and you'll see your data updated in real-time
BOOK FREE DEMO NOW TO KNOW MORE BENEFITS OF QUICKBOOKS ONLINE OVER QUICKBOOKS DESKTOP
Infoseed Computers LLC is one of the leading qbo dealer company in Dubai. To know about our Accounting solutions contact us, our sales team will guide to select accounting software as per your need.
It is also compliant to legal and regulatory requirements, so there is a lesser chance of there being a legal notice against you. We deal in VAT Accounting Software Dealers in Dubai, UAE.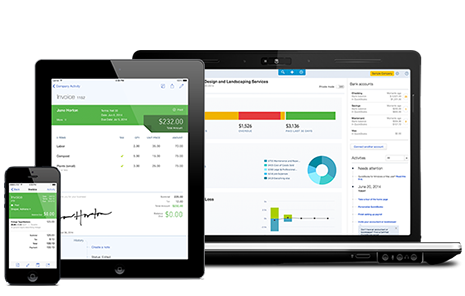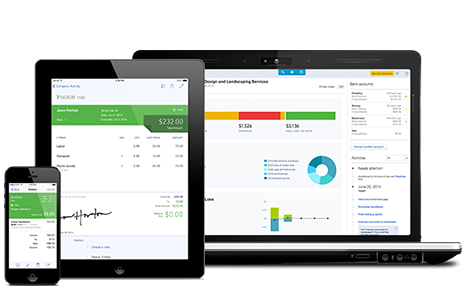 About qbo Advanced
Qbo Advanced is a cloud-based accounting solution that helps small to large enterprises manage expenses, projects, invoices and more. It comes with a centralized dashboard, which enables users to gain insights into business trends and organizational performance using key performance indicators (KPIs).
QuickBooks Online Advanced allows administrators to assign tasks to sales representatives, grant access to specific users and collaborate on projects with team members. Users can capture digital copies of receipts and automatically sort transactions based on tax categories, improving financial operations. Additionally, it lets managers create custom estimates, manage recurring payments and export generated reports in various formats.
QuickBooks Online Advanced facilitates integration with various third-party applications such as RevenueBooks, Syft Analytics, Freedom Merchants and more. Pricing is available on monthly subscriptions and support is extended via phone, documentation and more.
Quickbooks Online Pricing
Quickbooks Payroll
QuickBooks Online Software Features:
Be GST Compliant, Always
Anytime, Anywhere
HSN & SAC Lookup11
Auto-find Tax Rates and Calculate Taxes
Integration with All Popular Apps
Input Tax Credits
Import-Export Data with a Click
Customized Reports
Input Tax Credits
Are you looking for QuickBooks enterprise click on below link:
QuickBooks Desktop Enterprise 20.0 is a most powerful QuickBooksyet. It delivers robust, easy-to-use, advanced functionality that scales with your business. To know more contact us Call / Whatsapp +971564427403
Why choose QuickBooks Desktop Enterprise
It's efficient and comprehensive- scale from 1 up to 30 users, without giving up control over user access. End-to-end workflows empower Enterprise customers to pay employees, track inventory, and run reports, all in one place.
It's flexible and tailored - Enterprise supports hundreds of thousands of users, items and vendors — more than 6 times the capacity of other QuickBooks products. QuickBooks payroll offers unique solutions tailored for the needs of retail, contractor, nonprofit, manufacturing and wholesale organizations.
It's familiar - QuickBooks Desktop Enterprise has the same friendly, inviting interface that countless QuickBooks users have come to know and trust.
Quickbooks Online Pricing
Quickbooks Payroll
Essentials
qbo has all of the features included in Simple Start, with extra functionality for businesses with more needs.
Essentials supports managing multiple users.
Easily run reports to see billable time by customer and review time entries.
Enter your vendor bills and track accounts payable.
Essentials has the option to create recurring transactions, saving you time and energy.
Track income and expenses in multiple currencies.
Monitor and measure the health of your business.
Quickbooks Payroll
quickbooks dubai, quickbooks software, quickbooks, quickbooks online, intuit quickbooks, quickbooks desktop, quickbooks payroll,quickbooks online accountant, quickbooks online pricing, quickbooks pro, quickbooks enterprise, quickbooks pricing, quickbooks for mac, quickbooks desktop 2021, quickbooks accountant, quickbooks 2021, quickbooks for small business, quickbooks online payroll, quickbooks pro 2021, quickbooks desktop pro 2021, quickbooks dubai uae, QuickBooks VAT Software Dubai UAE, quickbooks pro software, quickbooks pro price,Intuit Dubai UAE VAT Dealer Consultant Trainer, Intuit Dubai UAE VAT Provider/Dealer, QuickBooks with VAT in Dubai, Intuit QuickBooks VAT in Dubai, Intuit Free Trial in Dubai, Intuit VAT Free Demo in Dubai, Intuit Download Dubai UAE, Abu Dhabi Dubai UAE Sharjah Ajman, Intuit uk vat Sales Dubai, Intuit uk vat Installation Dubai, Intuit QuickBooks uk vat Training Dubai, Intuit Support Dubai, Intuit Online Version Dubai, UAE, Intuit QuickBooks Dubai, Intuit QuickBooks uk VAT Software Annual Maintenance in Dubai UAE, Intuit QuickBooks uk vat Premier Dealer in Dubai Abu Dhabi UAE, Intuit QuickBooks uk vat Pro Dealer in Dubai Abu Dhabi UAE, Intuit QuickBooks Enterprise Dealer in Dubai Abu Dhabi UAE, Intuit Dealer in Dubai, SAGE 50 Accounting Dubai UAE, QuickBooks uk vat Provider/Dealer in Saudi Arabia, Dubai, UAE, Bahrain, Qatar, Oman, quickbooks pro QuickBooks Accounting Software in Dubai UAE, QuickBooks uk vat Reporting in Dubai UAE, QuickBooks uk vat Customization in Dubai UAE, QuickBooks uk vat Pro, quickbooks pro QuickBooks Pro Dealer in Dubai UAE, QuickBooks Premier Provider/Dealer in Dubai UAE, QuickBooks uk vat Premier Dealer in Dubai UAE, QuickBooks uk vat Enterprise, QuickBooks uk vat Desktop Version in Dubai UAE, QuickBooks Enterprise Dealer in Dubai UAE, Sage 50, SAGE 50 US Edition in Dubai UAE,