Act! Pro gives you the full picture. View all relationship interactions and communication history for your system and everyone you do business with. Act! Pro seamlessly integrates with apps like Office, Outlook®, Google™, Facebook®, and LinkedIn®. It's perfect for individuals and teams of up to 10 people.
Know every detail about your customers and contacts
Keep customer contact information, plus associated notes, history, activities, documents, opportunities, social media profiles, and more in one organised place.
View a complete history list at a glance and drill down by date, type of history, user or keyword to find the information you need. Plus export this information to Excel to make reporting even easier.
Automatically link your existing and new contacts to company records, giving you an instant view of everyone you do business with at a single company.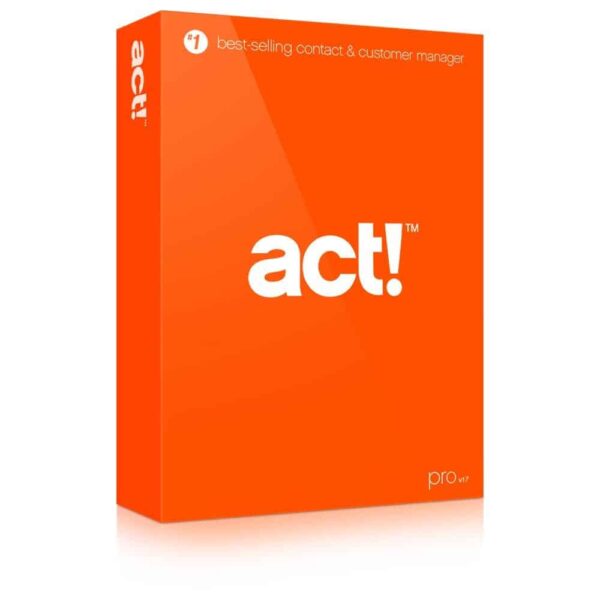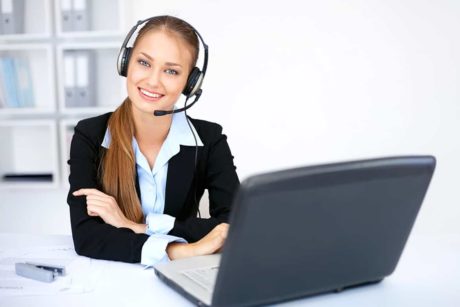 Make the most of your working day
Act! can help you handle the things that need to get done every day, leaving you more time to focus on what counts - your customers and sales.
With Act! Scratchpad you can avoid duplication or loss of important information, a convenient virtual notepad.
Smart Tasks lets you accomplish more, it will put activities in your calendar, send emails for you and much more, even when your Act! software is closed.
Track scheduled activities and associate them to your contacts for a complete view of happenings with those relationships.
Stay up-to-date with when a scheduled task completes successfully, or fails - giving you peace of mind that important database tasks are being completed.
Work seamlessly with the tools you rely on everyday
You can do it all from just one place. Act! works seamlessly with the tools you already rely on, like: Microsoft® Outlook®, Gmail®, Google® Contacts, Google Calendar™, LinkedIn®, and Facebook®.
Write an Outlook®email from within Act! and a history is recorded on the associated contact for quick recall.
Sync your Act! contacts and calendar with Outlook®and Google®, then easily access them from either application.
View popular social media sites within Act! to see more detail about what your customers are up to now.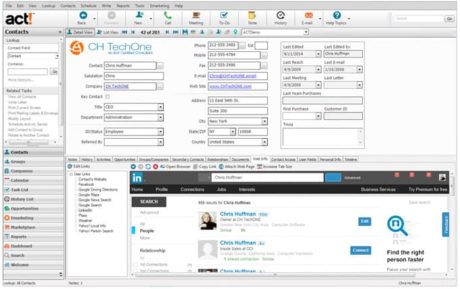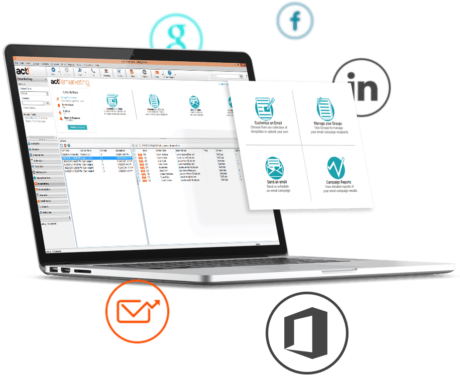 Generate a buzz and create new sales opportunities
With Act! emarketing emails are easy to create, send and track. A cost-effective way to grow your business by regularly communicating with your customers and prospects with the right message at the right time. Call lists automatically recommend hot leads to follow up with to generate sales.
Integrated Analytics
Easily segment data, on any criteria with just one click.
Get detailed reports - including opens, clicks, bounces, opt-outs, and more.
Record history and notes back into your Act! database.
Create sales opportunities
Rank your hottest leads based on up to date customer interaction.
Template editor
Dynamic online editing tool
Choose from 100's of customisable templates - including mobile-friendly versions.
Host & Share images and documents.
Personalisation options like dynamic data integration for smarter targeting.
act pro, crm act, swiftpage act, act crm software, act pro v21, swiftpage act support, act on crm, act crm pricing, act crm customer service, act crm reviews, sage act software, act crm system, act premium v21, act contact management software, sage act crm, act salesforce, act crm support, act crm for mac, act v21 pro, act crm demo, swiftpages, act crm mobile, act pro v20, act pro software